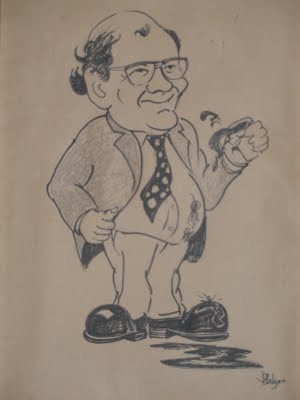 Ray Pellegrini, a Brooklyn boy, began his career as an educator in England after graduating from Oneonta State University.  A high school and college athlete, he had a gift for connecting with children of all educational capabilities and interests.  When he returned to the States, he taught social studies at Mt. Abe.  He coached baseball, basketball, and soccer, and supported the arts programs as his own children moved through the school system, even playing field hockey on occasion.  A teaching principal at Monkton Elementary, he later was the principal at MUMS, before returning to MAUHS as principal, and then was Superintendent at Milton.  From there, he began his 'dream' job as Executive Director of the Vermont Principals' Association.  This year marks the 12th anniversary of his sudden death.
Over the years, Ray was instrumental in raising awareness and support for the arts while implementing breakfast programs, advanced studies programs for high school students, as well as Road Rallies, the Iced Tea Club, and pushing anti-bullying awareness, plus intense programs to ensure graduation for under-achievers and the disillusioned.  He advocated for state-wide programs to support first-generation college students, and testified in the Legislature about anti-discrimination programs in public schools.
And as you may have guessed, he had a soft spot for playing golf, especially when it was a round of pitch-and-putt with family. Although he never became particularly adept at the game, we think that it's an excellent vehicle for honoring his memory and remembering his booming laughter.
We hope that you'll join us at a future tournament to help send Vermont high school seniors to college.
For info about pricing and sign-up, please visit this page.
Thank you!